Speak Swad
Although Swadlincote lies in the Midlands, the Brummie accent is not prevalent in the town. Some traits of the Birmingham accent are present, such as the comparatively slow flow of words: sustained vowels are a particular feature. Today however it could be said, that due to the trend of urban depopulation and Swadlincote's proximity to Birmingham via the M42 motorway, that the Brummie accent is spreading out of the city.
The dialect, rather like that of Burton upon Trent, is more akin to that of the nearby city of Derby, however and the terms of endearment 'Duck', and 'Me Duck' are in common use in the Swadlincote area, as they are throughout some parts Derbyshire and much of South Staffordshire. It was initially the Swadlincote miners who used the term in this particular context. For example, an inhabitant enquiring about your well-being may ask "How are you, (me) duck?". This can be likened to the Geordie use of 'pet'.
The word 'youth' (pronouced 'yow-th') is commonly used to describe any young person. Unlike 'duck', however - which is always a term of endearment - the word is sometimes used scornfully as well as endearingly.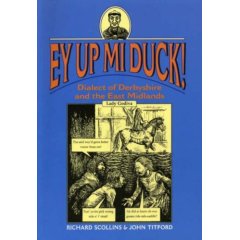 Reference: Wikipedia: Swadlincote
If you wish to learn more we recommend the following book:
Ey Up Mi Duck!:
Dialect of Derbyshire and the East Midlands
by Richard Scollins, John Titford
Publisher: Countryside Books

Buy from Amazon